Company profile
Short history
Since 2005 Grin s.r.l. works on both the national and international market in the sector of industrial and electro-instrumental plants, offering experience, availability and continuous technical and professional updating to their customers.
Our core business is the electrical industrial plant building: we plan and construct electrical panels, offer installation of MV and LV electricity lines, systems of distribution for motive-power and illumination, assembly and electro-instrumental connections within HV Substations, installation and wiring of bottling and packing lines and processing equipment.
The new offices, the warehouse and the shop are located in Torricella (TA). Here all the activities are carried out, from wiring of electrical panels to the storage of materials, as well as planning, coordination and direction of works. The products realized in our shop are subject to tests and verification before they are delivered to the yard. The yard activities (placing of cables, assembling of panels, etc.) are carried out by specialized and qualified staff.
Recently the company expanded its field of action by investing energies and finances and concluding business agreements with international partners in the industry of renewable energies, particularly for production of wind and solar energy.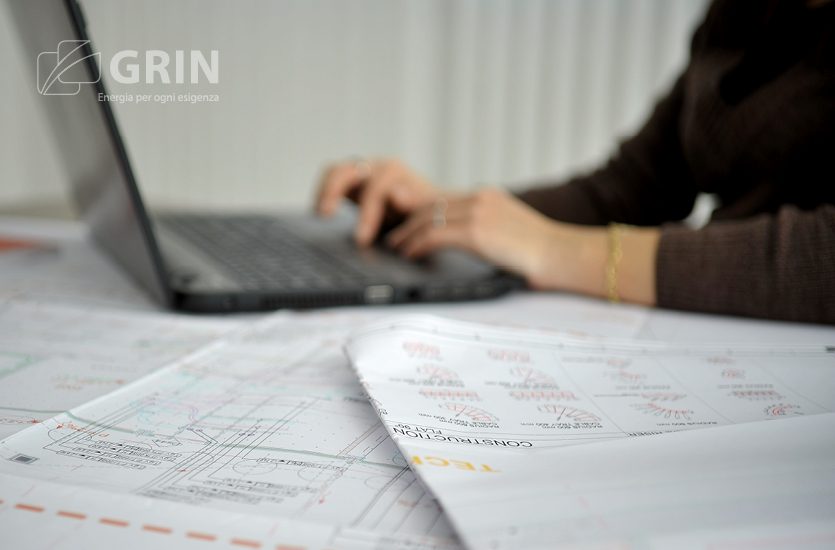 Our Company proposes highly customized services of design of plants and electrical control panels, in a model of co-design and collaboration with the Clients, aiming at interpreting their specific requirements, evaluating new functions and managing technological innovation.
On the basis of customer's indications, we develop turnkey systems and take care of all the stages of the project, with a view to creating a product with maximum efficiency that complies with safety regulations and is able to optimize maintenance costs. For every project, our technical staff guarantees elevated quality standard, complying with the standards in force.
We can design and cable all different types of industrial electrical panels and we are also specialized in the sector of electrical industrial systems.
Besides planning and construction of plants and systems, Grin takes care of every aspect of the installation procedures. In details the services offered are:
during construction, our technical staff supervises assemblage and verifies compliance with the project;
supervision in the phase of connection and interconnection of control panels and equipment guarantees conformity with the project;
Once the plant is built, our technicians direct the phase of start up of the systems installed.
All optimizations and controls of the plants are carefully documented and recorded digitally, with an eye to arrange final documentation of the work order.
Our commissioning process allows following a systematic method that enforces sequence quality checking, beginning from the planning phase, the contract phase, to the direction of works, which guarantees validation of the whole process till delivery of the work.